This week at the "Sew Many Cards" Challenge Blog, ANYTHING GOES! That's right, anything goes is the challenge theme this week! Which means that you can do whatever you would like to do for your entry!!
I just love an anything goes challenge! They are so much fun! You can do so much with your creative imagination or use the theme to combine with other challenge's you've seen while you are hop'n around! But no matter how you go about your anything goes, you always use the most of your crafty creative instincts!
We've also got a special treat this week. If you use a Sew Many Cards image in this weeks challenge (excluding the free image being offered this week), you'll receive a free single digital image of your choice from the Sew Many Cards store!!! So once you enter your post link using InLinkz at the bottom using a Sew Many Cards image, email me at Jeri@SewManyCards.com with your choice of your FREE SINGLE DIGITAL IMAGE FROM SEW MANY CARDS(limit one image per person)!!!
So get your juices flow'n and enter because this week's Sponsor is "KLM Design's" owned by the Mother and Daughter team ~ Kathryn & Sue! This is a FAB site! The prize is THREE IMAGES OF WINNERS PICK! FROM KLM! KLM Digi Stamps (KLM Designs) was started by a Mother & Daughter team. Kathryn (owner of KLM Digi Stamps) and Sue (Company's artist) started designing digital stamps for their own creations. After much response & excitement to their designs they formed KLM Digi Stamps.
KLM carry's a large selection of designs from clowns, which are the company's signature design to digital sentiments. All images are delivered ZIP format. Each image file contains JPEG and PNG format files. Images can be resized, reversed and altered to your likings.

BLOG HOP NEWS!!!

SUPER EXCITED!!!!
We are having a Blog Hop from April 30th to May 6th! Mark your crafty calendar's, this is gonna be a blast! This is my first hop while being on a DT, so I am super excited!!! I am uaually just a hopper! LOL! Every Designer will be picking a random winner from there comments, and guess what??????
Simon Says Stamp is sponsoring our Blog Hop!!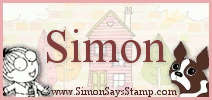 WOOT WOOOOOOOT!!
So get on over to "Sew Many Cards" challenge blog and get involved in this weeks Anything Goes challenge! Then mark your calendar for next week, cause were hav'n a Blog Hop!!!
So the Recipe for my card is as follows......................
Toga Spring Turtle form Sew Many Stamps. Image can be purchased at the "Sew Many Cards" Store.
Paper's from K&C Company and Pressed Petals.
Prima and MIC Craft Flowers
Embellies by Darico
Ribbon by American Crafts
I am also entering this card in the following challenges:
EVERYBODY-ART-CHALLENGE ~ Sketch
RAISE THE BAR ~ Your Favorite color
CRAZY 4 CHALLENGES ~ Case the DT card
SIMPLE DOODLES ~ Anything Old
DIGITAL TUESDAY CHALLENGE ~ April Flowers
S2G PAPER CRAFTING CONTEST ~ Add Flowers
PRACTICAL SCRAPPERS ~ Floss, Fibers and Ribbons
PILE IT ON ~ Spring
DARE U 2 DIGI STAMP ~ Flowers
PAPER SUNDAES ~ No People
That about sums it up!!! Hop on over and enter in this weeks challenge. I just can't wait to see what everyone's creative brain comes up with for their entry!! See you at........
"Sew Many Cards" Challenge Blog!
May everyone have a wonderful fun and crafty week!!
HUGS
Rach ~ Queen La Rubba