Welcome to the New release Blog Hop with "Sew Many Cards"!!
If you got here by chance or was just stop'n by you need to hop to the front of the blog hop here
http://sewmanychallenges.com/
If you got here from Mirja – http://mirjarr.blogspot.com/ you are on the right path and you will need to hop over to
Regina – http://rjones-scrapcreations.blogspot.com/ next.
This month we are celebrating the release of "Sew Many Cards" new images! They are all just gorgeous and can be found at the
"Sew Many Challenges Store"!
Here is my card which features Owen and Grace.
The imgae is called Owen and Grace Wedding!
I just love this image, don't you! It is just so cute!
Of course I used my favorite color, it's a wedding so why wouldn't I use my favorite color right, Turquoise/Aqua. I even took there picture on the Turquoise post fencing outside!

You just have to hop along! While you do you will see all of the incredible new images being released! Everyone on the DT has a differnt image they have used
which makes this so much fun!
And you get to meet the new Design Team!!

But Wait!

Before you hop to the next Design Team Member you need to
leave a comment here!
Each DT member will be choosing a random comment as a winner who
will recieve the image that the DT member is showcasing!!!
So leave a clever fun comment!
AND
The Sponsor Prize Package is a $10 Gift Certificate
from none other than..................
Simon Say's Stamp!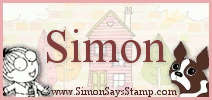 So how fun is this!?!?!?!?
Super fun if you ask me!
Have a super time hop'n along!!!
I am also entering this card in the following challenge's.........
The Secret Crafter Saturday Challenge ~ Friendship
Paper Play Challenges ~ Pretty Pastels
Charisma Cardz Chalenge ~ Weddings
Don't forget to enter in my celebration candy for making the
"Sew Many Cards"
Design Team!
Located in the top right hand corner of my blog!

May you have "Sew" much fun this week crafting and doing what you do!
HUGS!
Rach ~ Queen La Rubba

--------------------------------------------------------------------------------