Hello to all of my lovley crafty friends!
I was told by a friend that I have been really quiet!
You know what?
She was right! I have!
I have been through the move from you know where! Boy not fun!
But our stuff is moved and all of the animals on the ranch!
Now I didn't say I had unpacked all this crap yet!
Just moved it all!
I can't find all of my crafting stuff.
I had it all seperated, but it got jumbled anyways!
Thus, no card from me this week.
But I still have exciting news and a fun challenge to tell you all about.
the super fun challenge this week is to use animals or bugs!
Butterflies and Dragonflies are bugs too
so lets see what you got!
CJ has been work'n really hard get'n the
animal and bug's for the new image release finished.
You just have to hop on over to the challenge spot
to see all of the Posse' FABULOUS CREATIONS!
They rock this week!
CJ is also having a 25% off sale at the
on all animal and bug images!
Hop on over and check them all out!
To die for cute and gorgeous!
Then there

is the
DT CALL!
If you would like to be on the
COWGIRL UP DT
just put a DT next to your name on your link.
The first challenge for the new team will be on
August 29th and will run through January 2011.
This weeks sponsor is Whimsy Stamps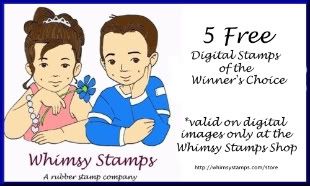 They are donating 5 Images of choice to the winner!
The "TOP 3" this week will each get 1 image of choice from CJ!
So who wants to win?
Well you can't win if you don't enter! LOL!

Take a ride on over to
"COWGIRL'S SUNDAY STAMPEN CHALLENGE SPOT"
and enter with an animal or bug card!
While you are there check out all of the inspirational
projects that our Posse has created.
Sign up to be on the DT! Follow us along! Have Fun!!
Can't wait to see what Ya'll are gonna create!
See you at the ranch
HUGS!
Queen La Rubba